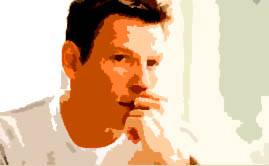 Many people are in the bad habit of judging themselves against how much they have done during the day, or the week, or up to that point in their lives. They have tied their identity to accomplishment. There are a few variations on this theme. One has to do with the notion of justifying your existence.
The idea is pretty simple. You have no value in-and-of yourself. So, to make up for that fact by trying to compensate by achieving worthwhile deeds. If you have done enough for the day, you can go to bed with the comfortable notion that the day was not wasted, you did enough to make it okay that you're running around the planet.
But, if you haven't done enough, well, that's another story. You will stay up fretting about your lack of accomplishment, your waste of time, your failure to pay for that day's existence. You promise yourself that tomorrow will be different, and mentally you list all the great things you're going to do, some of which are to make up for today's failure, some of which are to justify tomorrow's existence.
You have created or adopted a myth, one all of us are feed from the time we are toddlers. That we have a job in life, and that is to achieve something of value. We are praised if we succeed and criticized if we fail. We learn to take it personally.
Success or failure takes on a specific meaning. We are good or bad depending on our level of accomplishment. This myth can be so ingrained in us that it goes without saying. The myth becomes an invisible assumption, one we may hold, but one that we do not know we are holding.
Perfectly wonderful people can feel deep-seated guilt while they have done nothing wrong. They simply think they haven't done enough. Of course, soon there is a backlog of things they haven't done and times they haven't done enough, and this feeling that there is something wrong with them infiltrates their lives.
Do you try to define yourself by your accomplishments?
Do you think you are a better person if you succeed, and not as good a person if you fail?
Do you think that you have a mission in life, but that you don't know what it is and, therefore, you are not living up to it?
Do you feel you do have a mission in life, but you aren't doing enough to fulfill it?
Do you feel you need to do more than you do?
If any of these questions have a "yes" answer, you are putting a burden on yourself that comes from misconceptions you have picked up somewhere along the way in your life.
It doesn't matter where you may have taken on these concepts. What matters is that you have adopted them and think they are true, which they are not. Concepts are not reality. The creative process happens in reality.
The essence of structural tension is rather simple: What do you want to create? Where are you now in relationship to that outcome? What actions do you need to take to accomplish that outcome? Notice that the answers to these questions have no place for your self-concept or any other type of concept.
Cheers, Robert