Our Flagship course the Fundamentals of Structural Thinking (FST) will be offered in June, 2021. This is a course especially designed for consultants, coaches, managers, and those in the helping professions. Below is a 30 minute video with excerpts from the 2017 FST in Vienna, Austria. This serves as a good introduction to some of the unique principles of structural dynamics.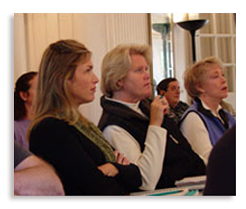 Fundamentals of Structural Thinking (FST)
April 20-23, 2023
Please contact seminars@robertfritz.com for more information and/or to register for this program.
---
This, our introductory program to Structural Consulting is taught by Robert and Rosalind Fritz over an exciting four days. During the training you will learn new thinking techniques, understand the major principles of Structural dynamics, practice the rigor, and engage in exhilarating exercises with other participants. You will learn Robert Fritz's technique for Digital Decision Making which will enable you to discern enigmatic situations with a clarity that is laser-like and potent.
> More on Digital Decision Making
This program is especially suited to consultants, trainers, executive and personal coaches, human resources professionals and OD professionals.
If you are someone who is intellectually curious, generative, wanting to grow and supportive of others then this program is for you.

30 minute video with excerpts from the 2017 Vienna FST:
The course content:
Structural Consulting, a skill used extensively in all aspects of coaching and consulting

Structural Tension Charting

Picturing Skills

The Creative Process for Personal and Organizational use

Viewing an uncut video of a personal session with Rosalind Fritz

Learning how to think structurally rather than situationally

Digital Decision Making

Defining an Organization's Structure

Digital Business Analysis

How structure works within organizations and personally

How to work with the structures you uncover

How to change the underlying structure

How to move from oscillation to advancement
Robert will be using a variety of visual material (DVD/video/movie clips) to illustrate learning points as well as giving you original techniques and exercises so that you will have a hands-on experience of using these skills effectively.
Rosalind will coach you as you learn how to understand the structural implications and relationships that lead to targeted exploratory questions.
A participant comment:

The Fundamentals of Structural Thinking (FST) is an engaging, exhilarating workshop that will blow the lid off your expectations. While most intensive 4-day workshops can leave you feeling exhausted physically and emotionally, FST will leave you charged, energized, and thoroughly excited about continuing the work and learning. Robert and Rosalind are a perfect team, in harmony with each other and the participants. Their warmth and commitment to providing a quality experience for participants comes through in every word and action. I highly recommend the FST and can't wait to take the certification program

Kate Arendt (OD Consultant, Business and Personal Coach, President, East Bay Chapter, International Coaching Federation)