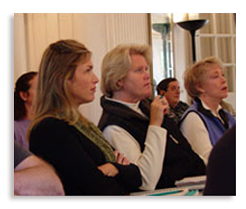 Here is the principle: the underlying structure of anything will determine its behavior. The implication of the principle is usually not well understood. When people fail to understand this principle, they fall into the trap of trying to change long held behavioral patterns by adopting new behaviors. "Take risks," or "Support your health," or "Get on with it," or "Inspire, innovate, ignite," and on it goes. Most advice of this sort sounds good on paper, or even in posters hung on corporate walls, but are hard to take for long when the underlying structure you are in does not support this type of change.
If your car pulls to the right, and you want to drive straight ahead, you will position the steering wheel to the left. The underlying structure is generating the behavior. If you get advice from an expert driver that when you want to drive straight, to steer straight, but your car pulls to the right, you can't take the expert advice for long. Almost immediately, you will be steering to the left to compensate for the car's underlying structure. Much of the advice we get is on this level. Sounds good, but in reality, it can't work well because of the underlying structures we are in.
Three principles I write about in The Path of Least Resistance are: energy moves along the path of least resistance (water moves where it is easiest to go;) the underlying structure determines where it is easiest to go (the riverbed determines where the water flows;) and, the critical principle that makes all of the difference – we can change the underlying structures we are in. When we change the underlying structure, that automatically leads to a change of behavior. The new structure supports the new behavior. If we take our car to a garage and the mechanic aligns our wheels, we don't need to be told to steer straight when we want to drive straight, we just do. The change of underlying structure has generated a new pattern of behavior.
Most structures we are in are invisible. They are not obvious. But we can learn to see and understand them. Some are on the personal level impacting your life. Some are on the organizational level impacting how well a company can perform. And there are two types of behavior structures produce: oscillating and advancing.
The pattern in an oscillating structure is this: first you set out to accomplish something; at first things go well; you may even reach your goal; but then there is a reversal, pulling you back to how things were. In this type of pattern, success is NOT sustainable. This is like the movement of a rocking chair. Movement forward is followed by movement backward. In a personal life it may be the great relationship that didn't last; the project that first looked good, but later was a disaster; the career direction that, after some degree of success, somehow went off course.
In the corporate world it is such patterns as: centralize decision making, then decentralizing decision making, and later, centralize decision making again. Or it might be to build up capacity, but then going on a downsizing exercise, only to build up capacity once again. Of course these types of patterns take several years to play themselves out, but if we back up, we can see how predictable these patterns are.
In an advancing pattern, you set out for a goal, you take the necessary steps, you accomplish the goal, and it is sustainable. There is nothing pulling you in the opposite direction, as there is in an oscillating pattern.
The difference is purely structural.
If you are a consultant, coach, manager, or work in the helping professions, you may have noticed this oscillating pattern: you do your best work, everyone is pleased with your work, it seems to make a difference for a while, but, when you come back, say a year later, it is as if it never happened. They are back to their original situations. This pattern shows the telltale sign of a lack of change of the underlying structure they have been in. Without a change of their underlying structure, they are destined to return to where they were before you worked with them.
In our workshop the Fundamentals of Structural Thinking, we teach you how to first identify the underlying structure that is in place, and then how to change it from an oscillating to an advancing structure. This enables you to produce sustainable change in which the good work you do lasts and builds upon itself.
For more information:
https://www.robertfritz.com/…/fundamentals-of-structural-t…/