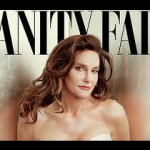 So, here is Bruce Jenner who feels he is a woman, and transforms himself into herself: Caitlyn Jenner.
And done SO publicly, it challenges the notion of freedom of the individual. Are people free to live their lives as they want, or do they have some hidden obligation to conform to how others, or society as a whole, would decide for them?
This is not an unsubstantial question. Because it puts the value of freedom of the individual against the ideal of social conformity.
Now, we are not talking about sovereignty. We are not talking about "are people free to throw their garbage on my lawn?" That is not a question of freedom, but of private ownership, and the rights that go along with that ownership. People who get a little nervous about issues of freedom often slip into issues of sovereignty, which then, allows them to avoid thinking more deeply about freedom.
So, is Jenner, according to your values, rather than the type of choices you might make for yourself, free to live his/her life the way he/she sees fit?
Most people favor the value of freedom. But, too often, the issue is abstract. One can favor it in theory, but when it comes to their own parents or adult children, suddenly the issue is not so clear. We all have opinions of others, and often we think we know better about how they should live their lives than they do. Very human, indeed.
But living consistently with your values is a test for most people. And here is Jenner, unapologetic about her choices in life, against a sea of criticism, disparagement, and even worse, ridicule from people, some of whom claim to be all for freedom.
I have no idea what it must feel like to be transgender. The closest maybe that I've always felt like a Catholic but wasn't raised to be a Catholic. When I finally converted to Catholicism, it was no big deal to society, or even to the people who knew me. Maybe it's like that. A private matter.
But, you may say, Jenner made it a public matter, and for that, I am all admiration for her. Good for you, Caitlyn! Do what you want, live your life the way you want, be as public or private as you want! More power to you.
And for those who would choose for Jenner over her own wishes, you are free to have your opinion. Just never claim you are for freedom.